The Lindenwood Park Neighborhood Association (LPNA) Safety Committee showed their appreciation to the officers of the Second District South Patrol by presenting them with 110 gift cards from Lindenwood Park neighborhood businesses.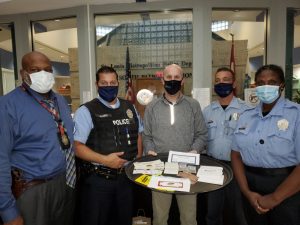 Special thanks to these Lindenwood Park businesses that generously donated gift cards:
Biggies

Pietro's

Vinnies

Pint Size Bakery

Pizza a Go Go

Cupcake Cartel

Chick-Fil-A

Jimmy Johns

Penn Station
The LPNA purchased additional gift cards so that every officer will receive a $10 gift card to a local business.
Our officers have a thankless job working to protect our neighborhood and we wanted to express our gratitude as a community.