LinFest (Fall Festival)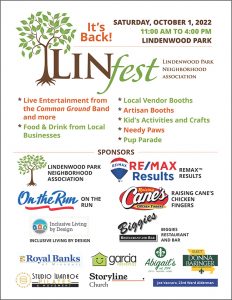 The Lindenwood Park Neighborhood Association biennial Fall Festival (LinFest) is a one-day event that occurs on even-numbered years and takes place in Lindenwood Park at the north end (Jamieson & Pernod) from 11:00 am to 4:00 pm. Linfest is typically held in the month of October.
It's an opportunity for local vendors to showcase their products and services, for restaurants to promote their food and for local churches to provide fun activities for the children. There are performances by local organizations, a band, and lots of entertainment for adults and children!
Lindenwood Park has some of the best businesses and restaurants in the City of St. Louis and we're proud to showcase them at LinFest.
For more info, or to be a volunteer, email linfest@lindenwoodpark.org.