It's been 4 years since our last LinFest and the LPNA is excited to be able to announce that we are ready to wow you!  LinFest is happening on Saturday, October 1,  11am – 4pm in Lindenwood Park. Just look for the tents and listen for the music!
LinFest is our Fall Festival hosted by the Lindenwood Park Neighborhood Association.  It is one of our major fundraisers and most of the money raised from LinFest is pumped right back into providing you, our neighbors, with a fun, family-friendly event.
We could not do it without the support of our very generous LinFest sponsors:
Mobil on the Run, James E. Joyce REALTOR REM/MAX Results, and Raising Cane's Chicken Fingers
Our Banner Sponsors: Inclusive Living by Design and Biggie's Restaurant.
And, not forgetting our Event Sponsors: Royal Banks of Missouri, Studio Ivanhoe, Garcia Properties, Abigail's Gift Boutique, Joe Vaccaro, MO State Representative, Donna Baringer, and The Storyline Church.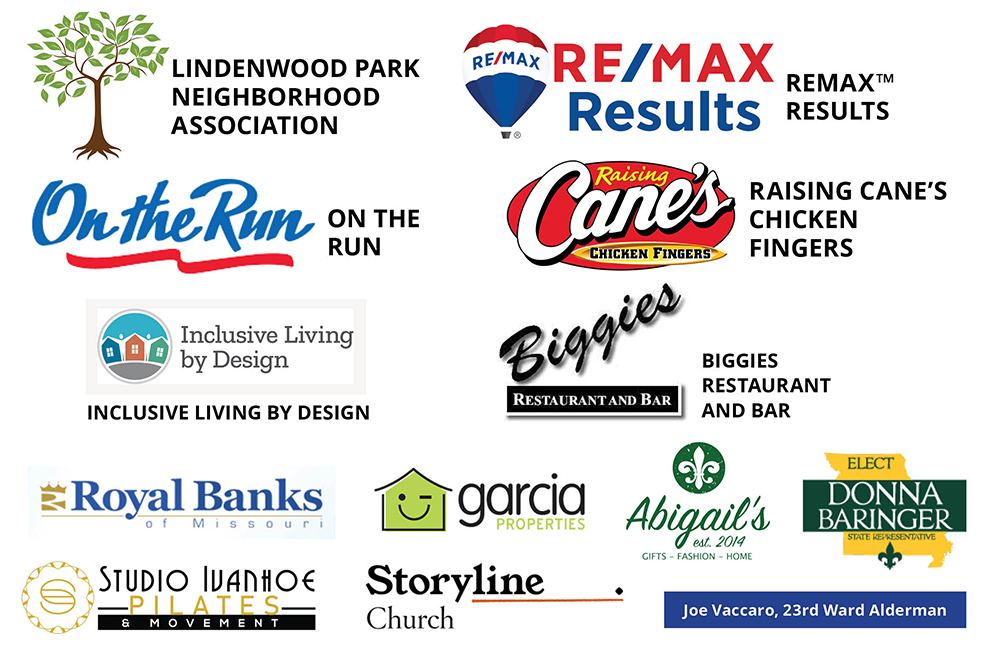 Special mention to our Activity Sponsors too: Carrollton Bank, Collections by Joya, and TreauX's Cajun BBQ.
We have a wonderful day planned for you. Starting at 11am Aaron Doerr Fellow Musician's Group will entertain us with some great music, followed by performances by GSA's choir and orchestra. After that, our band, Common Ground, will be providing all the music for the rest of the day. Needy Paws Rescue will have adoptable dogs AND they will be hosting the Pup Parade. Registration is required at a cost of $10 — all proceeds going to Needy Paws. They will also host a costume contest, so dress your pup up, take part in the short stroll and there will be plenty of prizes available.
So, who will be there? I'm so glad you asked!
Offering you the best food and beverages are:
4 Hands Brewery
Biggie's Restaurant
BluePrint Coffee
El Paisano
Southside Wine & Spirits
TreauX's Cajun BBQ (food truck)
New York Tom's (food truck)
Our participating vendors will be:
4th Ward Democrats
Aaron Doerr Fellow Musician
Abigail's Gift Boutique
Benton Park Prints
Charm Me Sweet Candy
City Sewing Room
Collections by Joya
Forest & Meadow
Garcia Properties
Grow Gear
Inclusive Living by Design
James E. Joyce
REALTOR RE/MAX Results
Ken Davis – artist
Lindenwood Drug
MO State Representative, Donna Baringer
Nicole Jarrett Photography
Raising Cane's Chicken Fingers
Royal Banks of Missouri
Senegence
Studio Ivanhoe
My City My Music (streaming live)
We also have an Artisan tent that will be full of some very talented and eager artisans/hobbyists/crafters, such as:
Bill Kambol – Artist
Cammarata Art Commissions
Dee Peterson Designs
Maddy Yungbluth
Making My Own Magic
Naked Naturals
Pat's Fishing Crafts
Patterned Plates by Monica
Phyllis Terry Friedman Art & Design
Silly Fox Makes
Soap 4 Cure
Taylor Hiette Designs
Terra + Talia
The Plant Truck
To keep the children occupied and entertained we have crafts and events provided by: LASM, Machacek Library which will have a storybook walk, Southwest Baptist Church, The Storyline Church, and Timothy Lutheran Church. We will also have the Bubble Bus, the safe house, and the fire truck as well as several inflatable games to keep the children busy.  Unfortunately, the playground is out of bounds as the equipment is being replaced.
The LPNA booth will have several awesome raffle baskets available with some amazing items that you could win.  Be sure to buy an arm's length (or 2) of tickets to stand a chance to win them!  You can also sign up to become a member of the LPNA, check your membership and renew, if necessary, purchase The Club for your car, neighborhood flags, and various t-shirts too.
The people who help us to round off this successful event are those behind the scenes, our volunteers, and many who have worked on this project for months.  We really appreciate the loyalty, reliability, and dedication to helping ensure the success of LinFest.  Thank you!!
Be sure to visit us at LinFest. Tell your friends and family and come and support your local neighborhood.
It will not rain!